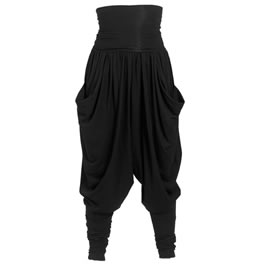 I don't own any harem pants and quite frankly I'm not in a hurry to buy any.
I like the harem shorts in the first picture especially because of the cute bow detail.
The harem pants in the second picture look a little too fugly for my taste. Maybe I'd wear the third ones and shock the hell out of everybody..
When I saw this last pair I immediately thought gypsy, something about the color and the flowy see through material.
Anyway for my work wardrobe I have been toying with the idea of getting myself some black harem pants (the kind that Tyra Banks wears in cycle 13 of America's next top model) and pairing that with a ruffled blouse, what do you guys think of my idea??